Title Loading
fusebox festival/cohen new works festival
SPRING 2017
What will happen when my grandchildren find my Twitter account?
What happens when my online self becomes my real self?
How do I take the perfect selfie?
What happens when someone finds that drunk photo from 2008?
We're all going to ponder these questions as we dance together at your most introspective concert. Presented in the 2017 Fusebox and The Cohen New Works Festivals, TITLE LOADING combines multi-media spectacle, an interactive concert, and space to dance it out inside of this immersive concert theatre.  Come with all_caps as we seek to find out what authenticity looks like to all of us now and how we're all experimenting with our false sense of control around who we are online.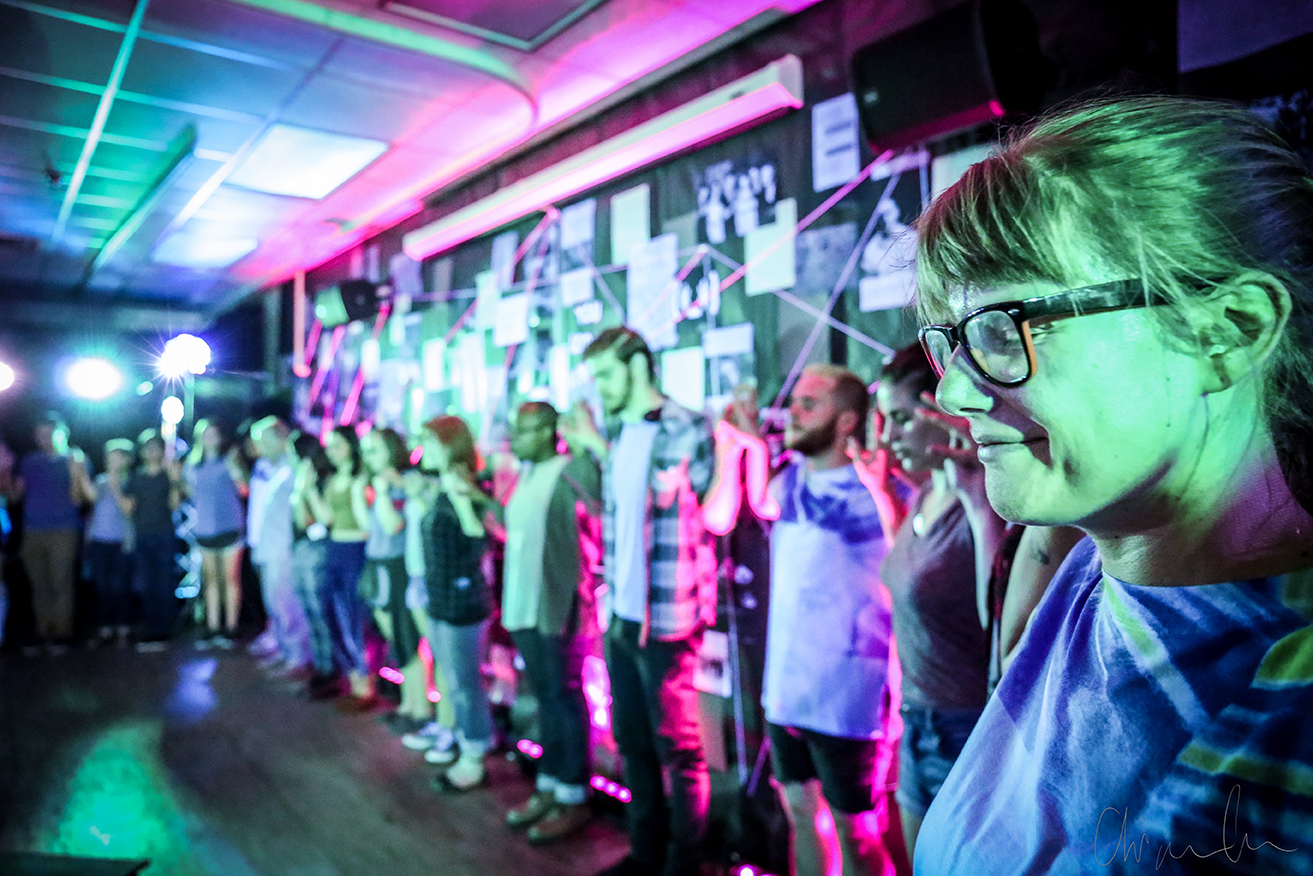 PLAYERS
all_caps is an artist collective comprised undergrad and grad alumni from the University of Texas at Austin. We create innovative devised work that challenges audience rules in performance and creates an environment that might feel more like being at your favorite concert or cheering for the winning team. Using media, sound, installation, dance and text, this work crosses the Millennial generational divide.
BRUNO-PIERRE HOULE
Bruno-Pierre Houle is a scenographer with an interest in unconventional storytelling. He received his M.F.A in Theatrical Design from the University of Texas at Austin, where he created new works for theatre, dance, opera and live events. His work in film and theatre explores the ways media can bring audiences together. Originally from Montreal, he now lives in Brooklyn. www.bphoule.com
DREW paryzer
Drew's work has been seen or developed at the Roundabout Theatre, The Kennedy Center for the Performing Arts, and the Fusebox Festival. Plays include Al-Halqa (is that how it's pronounced) (New Harmony Project finalist), Swallow the Reader, and Alter. Devised work includes FinalCon (Austin Critics' Table Award nomination) and Intro to Being Here, for which he co-created the companion video game. B.A.: Sarah Lawrence College, where he was a recipient of the Lipkin Prize. www.drewparyzer.com
ELI WEINBERG
Eli Weinberg is an actor/collaborator from the west suburbs of Chicago. Recent credits include Diary of Anne Frank (Otto Frank) Little Women: The Musical (Mr. Lawrence), and The Daniel/Rose Project (Sound Design) Weinberg will graduate from UT Austin in 2018 with a BFA in acting.
HANNAH WOLF
Hannah Wolf is a theatre maker originally from Juneau, Alaska. She makes new work for the stage and explores new ways of making work in the rehearsal room. She makes work across the world and is currently based in Austin, pursing her MFA in directing at UT Austin. You can find her on the internet at hannahjwolf.com
JON HAAS
Jon Haas is a 3rd year UT MFA candidate in Integrated Media Design. He is a set, lighting, and projection designer as well as filmmaker. Jon was recently an artist-in-residence at Robert Wilson's Watermill Center and continues to run VECTOR, a dance and performance company, alongside long-time collaborator Leah Wilks. jonhaasartist.com
KELSEY VIDIC
Kelsey Vidic has an MFA in Costume Design from The University of Texas at Austin. She has worked for The Santa Fe Opera, American Players Theater, Opera pa Skaret and Intel Corporation. She designs for opera, dance, theatre, film, videos and installations. She is fueled by revealing and sharing humanity through clothing. She is based in Los Angeles. kelseyvidic.com
KEVIN POOLE
Kevin Poole is a graduate of the University of Texas at Austin with a degree in Theatre and Dance. He is interested in directing new and experimental theatre. His most recent credits include Gondal by Kimberly Belflower, Lost Girl by Kimberly Belflower, 381 Bleeker by Gia Marotta, and Neighborhood 3: Requisition of Doom by Jennifer Haley (UT Austin). Kevin lives in New York City and currently works as a personal stylist.
NATALIE LABODA
Natalie Laboda is a 3rd year BFA Theatre Education major at the University of Texas at Austin. She loves directing, but has a passion for devised work. Most recent credits include The Silent Woman (Assistant Director) and Melancholy Play (Director).
PRODUCTION HISTORY
HERE ARE EXAMPLES OF SOME OF OUR DEVELOPMENT
FIRST DRAFT SHOWING
December 2016
Austin, TX
Presented at the LAB Theatre of the University of Texas at Austin
Stage Manager: Helen Hendrick
WORKSHOP PRESENTATION
April 2017
Austin, TX
Co-produced by the Fusebox Festival and the Cohen New Works Festival
Additional Performers: Miguel Angel Lozano, Jade Jackson, Francis Rodriguez, Alexandra Sanchez.
Choreography: Emily DiFranco and Allison Irby
Sound Design and Engineering: Fernando Tort Cisneros
Lighting Design: Matthew Smith
Stage Manager: Helen Hendrick
IM Assistant: Tanner Sievert
Music by: Dan Deacon ("America" Album)
PROCESS
TITLE LOADING was created with the driving question "What are the effects of a self curated life?", source text (Our Town) and the anchor of Dan Deacon's album.
Using primary research from Jon Ronson's So You've Been Publicly Shamed, composition research in workshops spanning 1.5 years of exploration into the limits of social media, we created moments involving interactive technology, dance, text and attempts to find connection over social media. These moments were developed into a scaffold with the music and the audience interaction techniques. TITLE LOADING was produced in draft form, allowing it the ability to change as our relationship to technology changes.